Karma Doesn't Pay The Bills and It Won't Solve Pay Inequity
This piece was originally published on Huffington Post.
In an exchange reminiscent of a Mad Men episode, Microsoft's CEO Satya Nadella told a room full of women in technology that they shouldn't ask for raises. Instead, they should trust the "system" and, better yet, rely on karma.
"It's not really about asking for a raise, but knowing and having faith that the system will give you the right raise," said Nadella to Maria Klawe, who is president of Harvey Mudd College and also a member of Microsoft's board, in an onstage interview.
"That might be one of the initial 'super powers,' that quite frankly, women [who] don't ask for a raise have," he added. "It's good karma. It will come back."
The real story is not just Nadella's gaffe, for which he later apologized. And the upshot isn't that he is anti-woman. But his comments, particularly because they were made at one of the nation's premier conferences for women in tech, reflect a much bigger problem. Even the best-intentioned people in supposedly the most innovative of industries are not getting it. The system cannot be about nice guys doing right by women. That system doesn't actually work. White women still make just on average 78 cents to every dollar earned by men, a gap that has barely budged a dime since Satya joined Microsoft. For women of color, who are vastly underrepresented in tech, the pay gap is even wider.
Nadella's comments on trusting the system beg the question – whose system are we talking about? Microsoft is like most companies. Men dominate its C-Suite. Of Microsoft's top 15 executives, just three are women. And Microsoft's latest diversity statistics reveal a broader leadership problem within the company: only 17% of its top ranks are women.
Are Microsoft's women employees really meant to trust a system that has failed to promote them?
Fostering a culture in which women must "trust the system" and not ask for raise also defies business sense. Wouldn't any company want employees who know their own worth and have the confidence and ambition to ask for it? Isn't that precisely the kind of employee who can excel? But little about the factors that contribute to the gender wage gap makes sense.
The time has come for companies to abandon the promise of karma and to get real about what they must do to ensure a system that promotes women in leadership and gender equity in pay. The system must have objective criteria that guide pay and promotion decisions. The system must be transparent about pay scales and the reasons for disparities between employees who are doing similar work.
If they don't fix the system, companies like Microsoft only have themselves to blame for women's flight from tech. Recent numbers show that women leave technology careers at twice the rate of men. You might get the impression that women aren't wanted. Check out this infographic from Ann Friedman's piece Etsy's Trying to Fix Tech's Women Problem: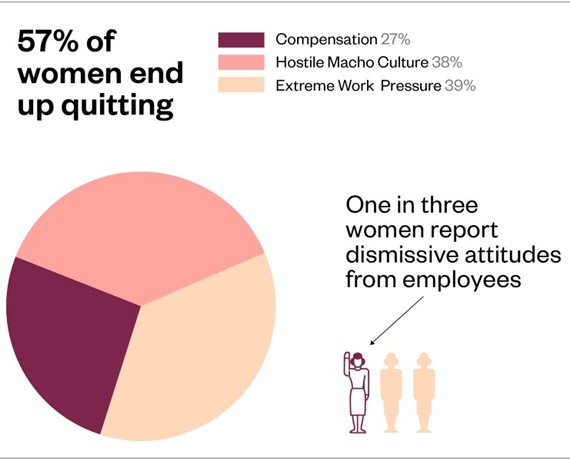 Equal Rights Advocates is headquartered in San Francisco. I am in awe of the technological innovation that flows through the Bay Area. I admire the instinct to disrupt inefficient industries. But sexism toward women in the workplace is inefficient. When an industry giant like Microsoft touts an archaic mantra like "trust the system," its leadership should know that it's part of the problem, not part of the solution. In his apology, Nadella failed to address why he misspoke, and what real changes he believes should happen in the industry to support the career paths of the women of Microsoft and other companies.
If a guiding principal of our technology industry is to unearth and solve problems, the pay gap is primed and ready. Instead of defaulting to outdated notions like the idealized subordinate woman, technology should embrace the future: equal opportunity to get jobs, do projects, get raises, run companies, succeed.