Advice for LGBTQ+ Survivors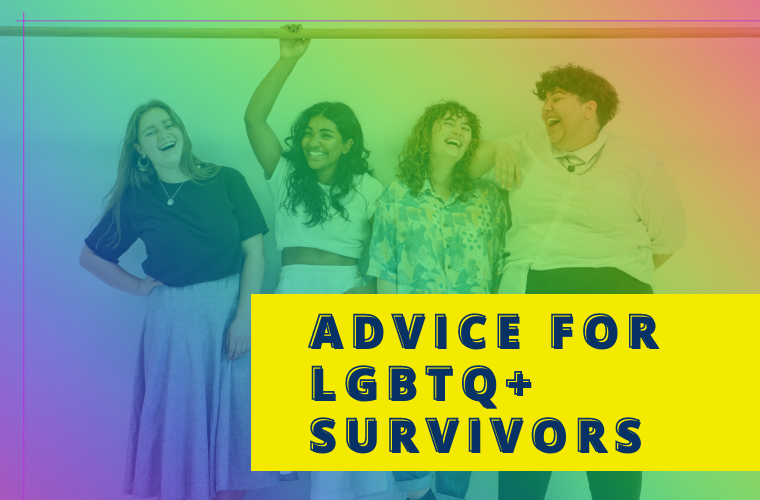 If you are an LGBTQ+ survivor, you may have unique concerns about the Title IX process. LGBTQ people experience higher rates of violence and lower rates of institutional empathy than their cisgender and heterosexual peers. Below are some common concerns and issues LGBTQ+ students often face when reporting harm, and suggestions for how to handle them.


1. 
If you tried to tell an authority figure about your experience and they didn't believe you, or you're worried they won't help you:
Even though you have the right to feel safe at school, for many of us, getting help isn't always easy. If you're afraid to report because you're worried that a teacher, staff member, or Title IX coordinator won't take your experience seriously, you aren't alone. Over half of LGBTQ student survivors say they did not report harassment or assault because they doubted it would resolve the problem, and over 60% of LGBTQ students who did report say school staff did nothing or told them to ignore it (GLSEN 2019 climate survey).
If you want to report the incident(s) but feel hesitant about doing so, try enlisting allies or community members to support you. You can ask a trusted friend or family member to be with you when you report, or you can connect with an anti-violence advocate on campus or from a local community organization to accompany you or help you make a plan for reporting. If your school has an LGBTQ+ club or resource center, you can also seek support there, even if that just means having a safe place to talk about your concerns so you feel less alone.
If you decide you don't feel comfortable reporting, you can also use the allies mentioned above to help you make a safety plan that doesn't rely on intervention from your school. Ultimately, you are the best person to judge what path forward is right for you, and whatever you decide to do is okay.
---
2. 
If you feel like your identity is misunderstood or not respected by the people responsible for helping you:
Feeling unseen or misunderstood is hard at the best of times, and feels even worse when you're already navigating a traumatic situation. Whether the available Title IX resources feel geared towards heterosexual experiences or you've been misgendered by the Title IX coordinator, implicit and explicit forms of exclusion are unfortunately common and incredibly harmful for LGBTQ+ survivors. But remember that you're not alone.
Try to advocate for yourself early and often in the Title IX process, and bring in additional help when it's useful or necessary. If you initiate a Title IX investigation, request an investigator who has been specifically trained on LGBTQ+ issues. Even if your school cannot provide such an investigator for you, you're calling their attention to important issues that they should prioritize in your case.
If being misgendered is a concern, consider including your pronouns in your complaint, and reminding the investigator or other school officials of your pronouns at the beginning of meetings. If you have a support person, ask them to handle correcting anyone who misgenders you. If your school does not have LGBTQ-specific support (in the form of available information or campus services), see if there's a campus Title IX advocacy group that can help you push for more inclusive resources.
---
3. 
If you feel like your experience of harm is being judged or dismissed because you are gay, queer, or trans:
There are many harmful myths and stereotypes about LGBTQ+ people that might feel like they are affecting how your Title IX complaint is understood or handled; for example, the homophobic stereotype that gay people are more promiscuous than straight people might be used to assume you gave consent, or assumptions about who is the more "masculine" or "feminine" partner might affect who is thought to have caused harm.
Try to proactively call out and correct these ideas as much as possible. Remind the investigator that LGBTQ+ people experience disproportionately high rates of sexual violence and low rates of institutional understanding. Point out any harmful ideas you think may be impacting how your case is understood, such as the idea that your past consensual sexual encounters impact whether or not this specific incident was consensual. Although it should not be your job to educate those in charge, if you feel like the investigator or Title IX coordinator is relying on improper or biased assumptions during your Title IX process, try providing them with resources about LGBTQ+ sexual or interpersonal violence that explain how these assumptions are inaccurate and harmful.
---
4.  If you're worried about putting the wellbeing of your community members at risk, even if one of them has harmed you:
Like many marginalized groups, LGBTQ+ people often do not want to report sexual misconduct to authorities because we do not want other members of our community to be harmed by a system we rightfully mistrust. If you want your experience to be addressed by your school but don't want to risk the possibility that the person who harmed you could be suspended, expelled, or otherwise punished, you can ask for your case to be handled through an alternative resolution process. (View our Alternative Resolution Guide.) Alternative resolution is not a punitive process, and it can give you the opportunity to negotiate mutual agreements between you and the person who harmed you about how they will be accountable and how you will stay safe.
---
5. 
If the harm you experienced feels systemic rather than just interpersonal:
The harm you experience at school as an LGBTQ+ person might feel like it extends beyond you and one other person. You might be experiencing a pattern of discrimination from multiple students or faculty members, or the harm you experienced might point to a larger culture of intolerance on campus.
If you feel like your experiences are part of a larger problem, don't be afraid to elevate the issue beyond your Title IX office or expand the scope of who you go to for help. If you can, gather a cohort of people who recognize the same problems to advocate as a group, approach a dean or president to raise your concerns if the Title IX office isn't responsive, or file a complaint with the Office for Civil Rights so that the Department of Education is aware of the problem. The Department of Education has stated that it will prioritize fighting discrimination targeted at LGBTQI students. (For information on how to file an OCR complaint, visit the Know Your Rights guides on our website under "Equity in Schools and Universities.)
You can also reach out to ERA's Free Legal Advice and Counseling helpline for assistance and insight into how to best fight for systemic change.